Think it. Do it. Change it.
How to Dream Big, Act Bold, and Get the Results You Want
182 Seiten
Buch (Kartoniert/Paperback/Softback)
978-1-4917-8719-9
€ 12,37 (D)
lieferbar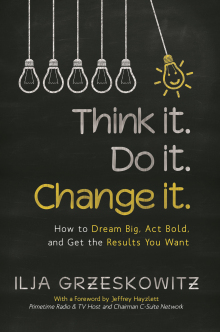 Inhalt
We live in tough times, and it seems many are unhappy with their circumstances in society, at work, or at home. Instead of taking action, we complain and wait for someone else to do something about it. Instead of changing ourselves, we hope others will take responsibility. Instead of actively living our dreams, we wait for the perfect moment. Unfortunately, that moment will never come.
Author Ilja Grzeskowitz has declared war on this passive wait-and-see approach. In Think it. Do it. Change it., he offers a plan for overcoming the fear of change. Grzeskowitz, who helps organizations all over the world to create a culture of change, details his step-by-step approach to dreaming big, acting boldly, and getting the results you want. He shows you how motivation really works, why the fear of change is actually your best friend, and which two words have the potential to change your entire life.

Grzeskowitz reveals the biggest motivational myths, announces the comeback of values, and shows you the most important characteristic that will help you to actively implement the necessary changes in business and in life. Think it. Do it. Change it. helps you live a life characterized by possibilities rather than limitations.