GABAL. Your Publisher.
From reading to doing, knowing to acting
From reading to doing, knowing to acting
This has been the motto of GABAL Verlag for more than thirty years. Over this time, this independent, family-led media company has demonstrated a consistent flair for trends and innovative spirit. Platforms and formats have changed, but outstanding content has remained a constant. GABAL is a publisher of practical books and a leading player in the business, personal success and life segment. Within the pages of GABAL's books, more than 500 practitioners and luminaries in their fields use their content creation expertise to share wealth of know-how and practical experience. In doing so, they help readers and followers achieve their personal, professional and learning goals.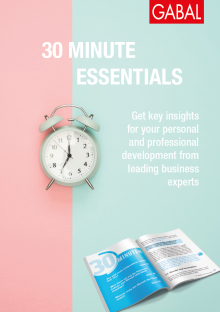 Get key insights for your personal and professional development from leading business experts
30 Minute Reading Time
Reading 30 Minutes a day can increase your intelligence. Get key insights in 5 chapters on 96 pages from +100 leading business experts in 30 Minute text and audio.
Big Ideas in Small
Packages – Anytime
and Anywhere You
Want!
Explore our vast book series that covers more than 130 titles. From leadership to motivation and inspiration, benefit from business know-how in 14 leading categories.
UNBOX YOUR LIFE
Cancelling chronic complainers, living life liberated, and other secrets to success
Spiegel bestselling author Tobias Beck
Specifications
144 pages, Paperback with flaps, Illustrations, 4C
Pub Date: September 2018
Sold to: India | Egypt | Germany | Turkey | Serbia | Indonesia | Viet Nam
United States of America | Romania | Russian Federation | Mexico |
Argentina | Lithuania | Hungary | China
Successfully steer your own life instead of having it determined by others, advises Tobias Beck in this German bestseller.
Energy vampires, and chronic complainers. We all know a Debbie Downer with a negative attitude, moaning the whole day long because nothing ever goes right: the weather is miserable, it's Monday, and to top it all off, the doughnut has a hole! Tobias shows us there's a way out: to simply not bother with such relationships at all. Polarizing, provocative and exaggerated, the Liberated® philosophy urges readers to liberate themselves from negative people in order to live successfully and authentically.
Memorable stories and proven techniques. With success stories that are as entertaining as they are instructive and success factors based on 15 years of personal experience in the field of personality development and behavioral psychology, Unbox Your Life features proven-to-work strategies. Easy to read and unconventional, it is part workbook, selfhelp, nonfiction, and narrative; it also features funny comics to illustrate how to:
• Think in terms of chances and opportunities rather than problems and risks
• Motivate yourself, forge your own path, and let yourself be guided by your dreams and vision
• Seek out people who support you, let you grow, and move forward
Rights sold to 21 territories
"Unbox Your Life will help you do just that--unbox your life and in the process discover your life's mission. Personal discovery and sense of self-worth is the foundation of any healthy relationship which is why the private victory must precede the public victory. This book is a must-read for anyone looking to build relationships that last." — Sean Covey, President, FranklinCovey Education and New York Times best-selling co-author of The 4 Disciplines of Execution
A former flight attendant with a learning disability, Tobias Beck has become one of Europe's most-loved speakers. His Bewohnerfrei® ("Liberated") podcast reaches an audience of millions online, hitting # 1 on the iTunes download charts upon its release. As a university lecturer, he explains, in a humorous fashion, how the principles of success and motivational psychology can work for others too. Beck hosts seminars and personal consultations. tobias-beck.com/en.
Unbox your Relationship!
How to draw people to you and build relationships that last
Spiegel bestselling author Tobias Beck
Are you ready to have the best relationships of your life? Tobias Beck shows how you achieve them – at work and in your private life
In this new book, Tobias Beck takes you on a journey aimed at achieving the best relationships of your life. As a first step, you must fall in love with yourself – because your relationship with yourself determines the standards of compassion, understanding, respect, and trust that is reflected in your relationships with others. Once you have learned to say goodbye to the beliefs that hold you back and to forgive the past and yourself, you will be able to intensively nourish good relationships and say goodbye to others. Your life deserves the best relationships you can foster.
"With raw honesty, Tobias shares the struggles he's dealt with, the paths it has led him down and the learnings he's gained from it all. The result is a collection of gems which will help you form an amazing relationship with yourself and others." John Strelecky, #1 Bestselling author of The Why Café and The Big Five for Life
Specifications
176 pages, Paperback with flaps, Illustrations, 4C
Pub Date: September 2019
Sold to: Germany | Turkey | United States of America | Hungary | China | Slovakia
YOUR LIFE
The Your Life books help the reader make more of one's life by exploring new directions and ways of thinking, and learning to get both large and small everyday problems under control. The books are entertaining and inspiring with practical tips that will make the reader's life easier, richer, and more beautiful.
YOUR SUCCESS
The Your Success books cover soft skill topics such as motivation, public speaking, self-manage-ment, and mental strategies for success.
YOUR BUSINESS
Your Business offers books about current trends and developments in the areas of sales, marketing, management, entrepreneurship, and corporate governance.
GABAL provides proven practical knowledge and publishes media products on the topics of business, success, and life. With over 600
experienced, international authors from various industries and education, we inspire businesses and people to move forward.

GABAL is your publisher, because we want to bring you forward. Not with finger-pointing, not divorced from reality, not pointy-headed or purely academic, but motivating in effect, sympathetic in appearance, and pragmatically-oriented toward results.
Our books are aimed at people who are looking for knowledge about current issues in business and education that can be put into practice quickly.
To Learn Only From The Best
With over 600 experienced, international authors from various industries and education, we inspire businesses and people to move forward.
Most of GABALs authors are highly professional trainers, motivational speakers or executives and are all outstanding leaders in their fields with many year's of hands-on experiences, their competence reflected in their success and therefore mirroring GABAL's philosophy 'to benefit only from the best'.